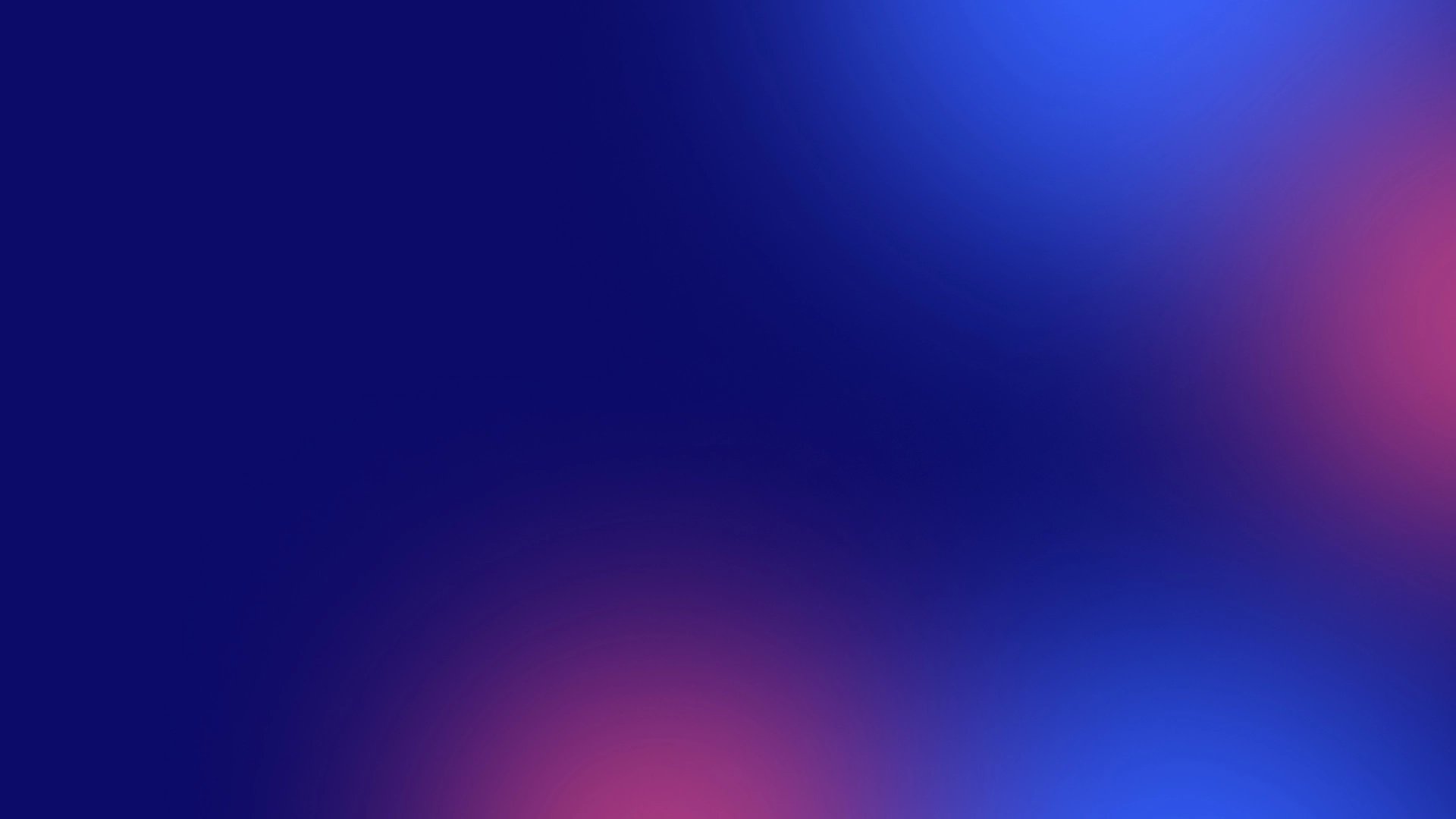 Profile optimization on LinkedIn: the ultimate checklist
Discover the top tips for optimizing your LinkedIn profile to attract more opportunities and stand out on the world's largest professional network.
In today's job market, your personal brand on LinkedIn is becoming more crucial than ever before, surpassing the significance of the traditional CV. But it's not just limited to job searching – having a strong LinkedIn profile has become vital for professionals in various fields, from finding new clients to doing brand awareness and marketing.
A well-crafted and optimized LinkedIn profile can showcase your skills, achievements, and expertise and help you connect with potential clients and partners. This makes it an essential tool for building and expanding your professional network. In this blog, I'll show you how to craft a fantastic profile that can get up to 3x more profile views and search appearances. Let's begin with a few steps that you need to do before going on further.
Using a URL for your LinkedIn profile that includes a string of random numbers and letters can make you appear less professional, and make it more challenging for potential employers or clients to find you through a simple Google search by your name.
Make sure to change it!
How does it look when you create a profile:
https://www.linkedin.com/in/dovydas-radavicius425-5D5FV/
How I recommend having it:
Steps you need to take to change your URL: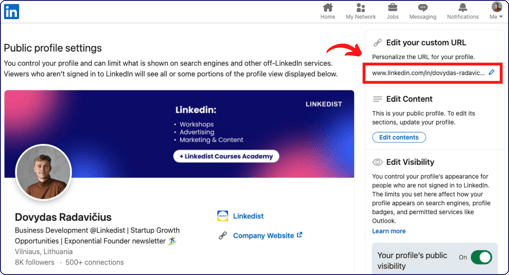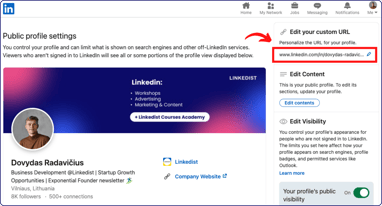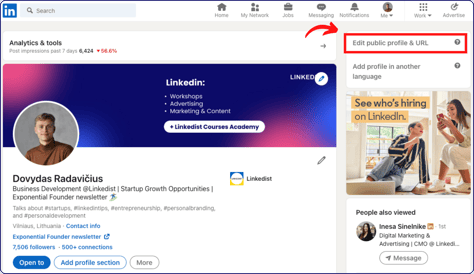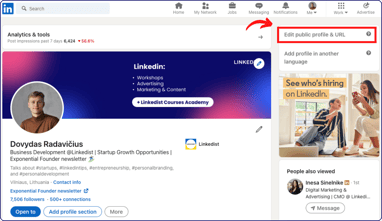 Make your profile visible
Have you ever seen anything like this?


By hiding your online status or using invisible mode, you risk missing out on valuable opportunities.
Many professionals have shared stories about how initiating a conversation after someone viewed their profile led to new partnerships or collaborations.
By actively viewing and engaging with other profiles, you increase your chances of receiving interesting messages and uncovering new opportunities.
However, if you remain invisible, you significantly reduce the likelihood of these types of connections.
Steps to make your profile visible: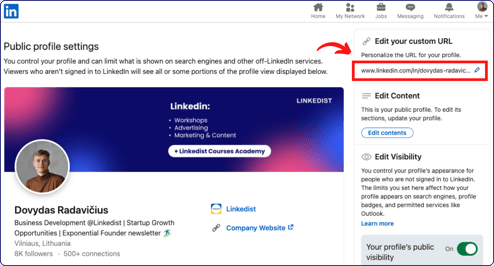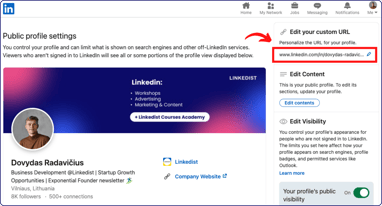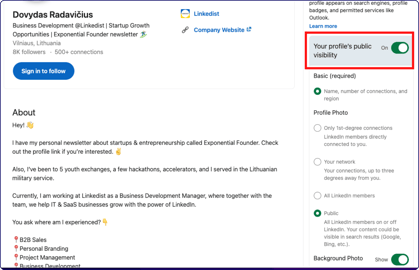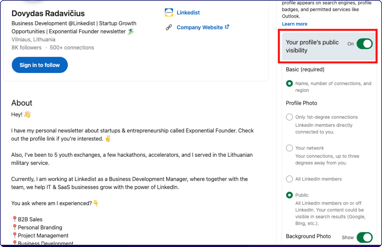 When you press the Edit public profile & URL, scroll a bit down and you will see a section on the right Your profile's public visibility.
Press on and scroll down to see if all the profile sections are on. Voila! Now you're visible to all LinkedIn users.
Add a link to your profile
This can be an amazing opportunity if you want to add the links to your website, calendar for booking meetings, or just show your own side projects.
Press the pen which is on the right and you will see Edit Intro page. Scroll down and add your link.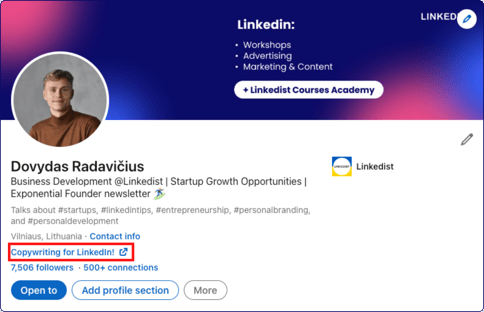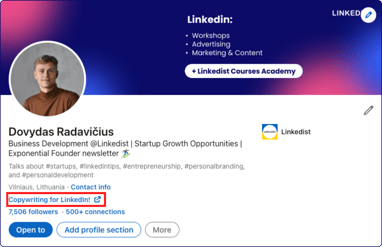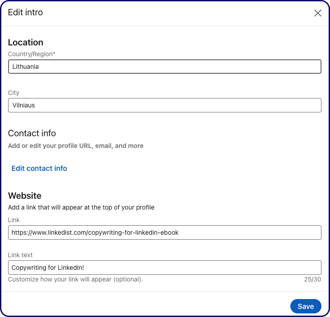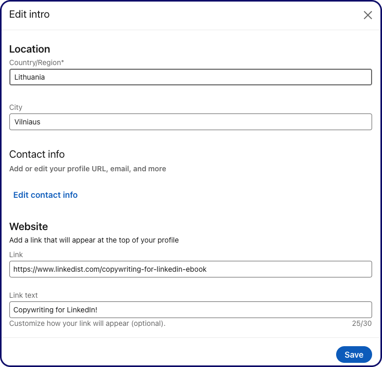 In this section, I will cover 13 LinkedIn personal profile parts that you should look out for and complete/update on your profile in order to appear as the most professional self, and attract more attention.
Open up your LinkedIn profile, and let's go through every part together.
The banner section on LinkedIn often gets overlooked, but it's a crucial element in creating a standout profile.
It's one of the first things people will see when they visit your profile, and it takes up a significant amount of screen space.
This means you have a great opportunity to make a memorable first impression and showcase your personal brand.
Whether you use a professional headshot, an eye-catching design, or a simple statement about your expertise, the banner section can help you establish your brand identity and make your profile stand out from the crowd.
"Ok, I got it, it's important, so what should I put in my banner?"
We have separated 3 different background ideas.
1.1. Say what you do: tell people what do you work on at the moment. Try to build it in a simple and creative way.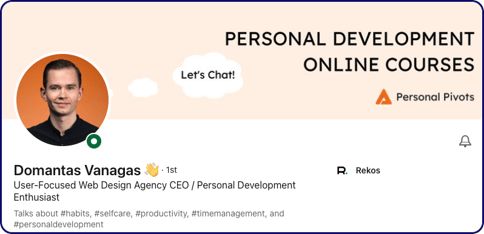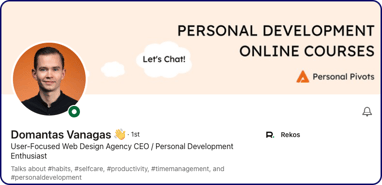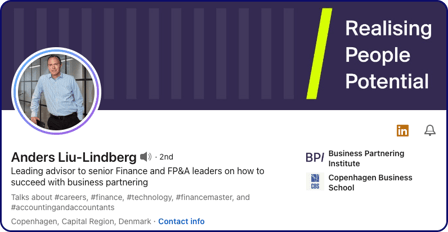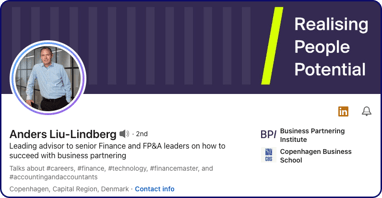 1.2. Personality: show your personality, what kind of person you're, what do you like, your hobbies, interests.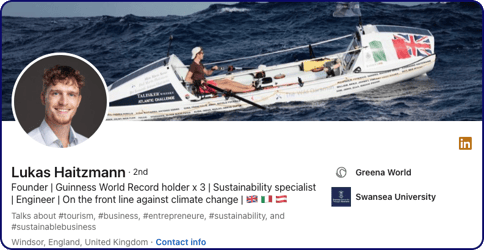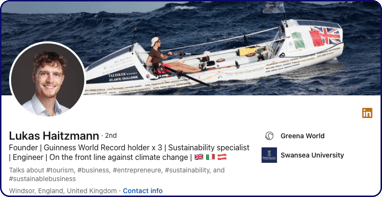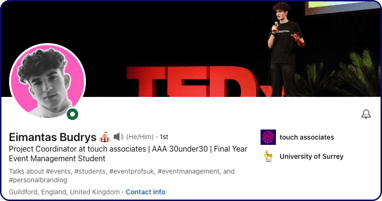 1.3. Company: be your company's ambassador, having your workplace logo on your banner will increase the brand awareness of your company.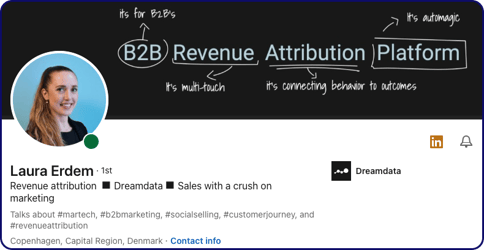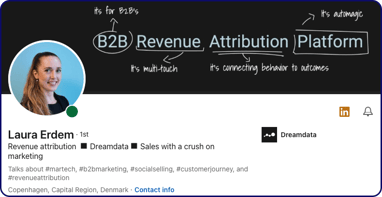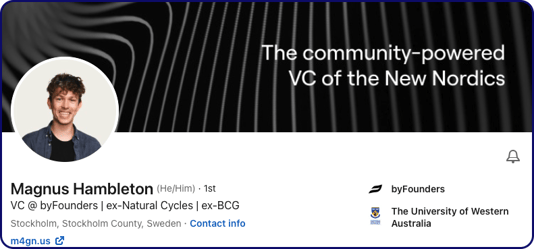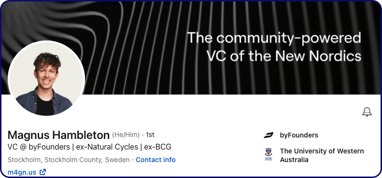 Your LinkedIn profile picture is the first impression that people will have of you on the platform, and it's a crucial element in creating a polished and professional profile.
It will appear alongside all of your activity on the platform, including posts, comments, and messages, so it's important to choose a high-quality image that accurately represents your personal brand.
What should you consider?
We should see your face clearly and preferably in the middle.

Use a recent picture, not made more than 3 years ago.

Don't make the photo too dark, lighter is always better.

Show your emotions, a small smile is always better than looking sad or mad.

Here are some examples of great profile pictures: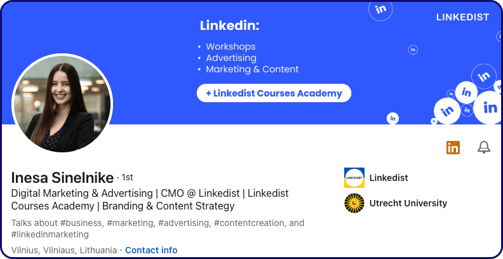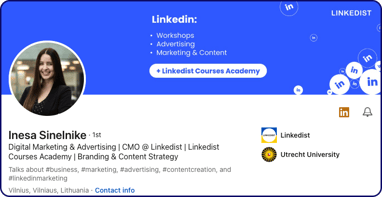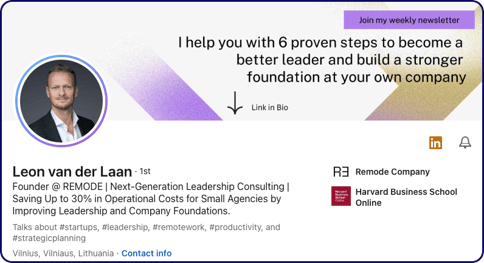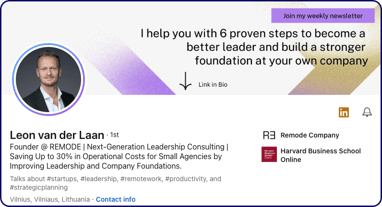 If you want, you can also add a background colour for your branding. In this way, it will be easier to recognise you in the long term.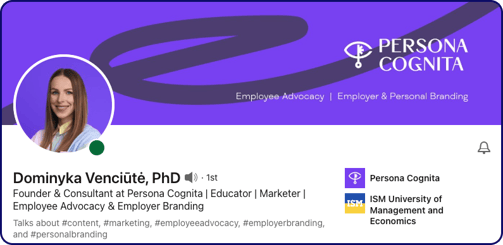 Your Header will always appear alongside your profile picture and will represent you across the platform. It's visible whenever you engage with other users' content, such as liking posts, commenting, or posting your own content.
That's why it's crucial to have a strong and compelling title that accurately reflects your expertise, skills, and professional aspirations. Use a clear and concise title that includes relevant keywords and a call to action.
Here are some tips for creating a great header for your LinkedIn profile:
Be clear and concise. Your header should clearly communicate your professional expertise or career aspirations in just a few words. Avoid using jargon or buzzwords that may be confusing or meaningless to others.

Use relevant keywords. Including relevant keywords in your header can help your profile appear in search results when recruiters or potential clients are looking for someone with your skills or experience.

Highlight your unique value proposition. What makes you stand out from other professionals in your field? Use your header to highlight your unique value proposition and showcase what sets you apart.

Use proper grammar and punctuation. Ensure that your header is grammatically correct and free of errors.

Test and iterate. Experiment with different headers and see which ones generate the most interest and engagement from your audience.

Get feedback. Ask colleagues, mentors, or industry experts for feedback on your header to ensure that it effectively communicates your professional brand and value proposition.

Some great examples: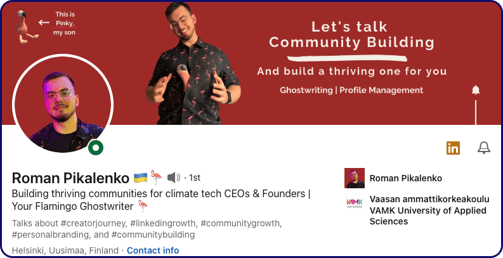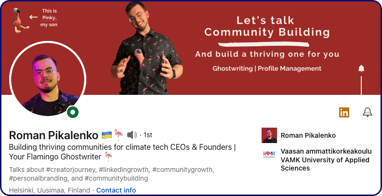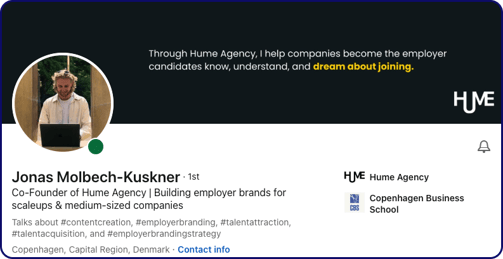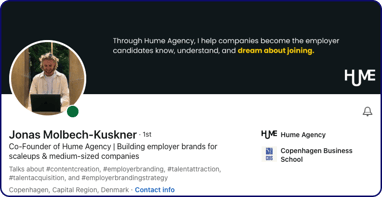 The featured section on your LinkedIn profile is a highly customisable area where you can showcase your articles, presentations, videos, projects or website links and more!
You can add some different types like:
Link.

Post.

Media.

Article.

Newsletter.

The featured section is a powerful way to make your LinkedIn profile more engaging and informative.


A.K.A – Bio or About section.
This is the place to highlight anything about your career, experience, hobbies, and product or service that you have.
Don't write in the 3rd person about yourself. It should be you here, not a media writing about you.
Tell your own story; it is a chance to show yourself. Don't put just work-related stuff. People love knowing personalities.
Tell about your experience:
What do you like? What are your interests or hobbies outside of work?

Let other people know how they can contact you if needed.

Write about the company you are working at right now and what its values are.

P.S. Points for creativity – emoji, humor, etc.

Write down your contact info – how should people contact you?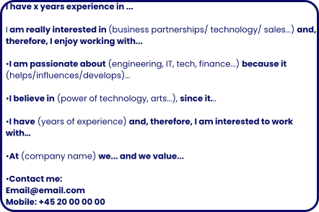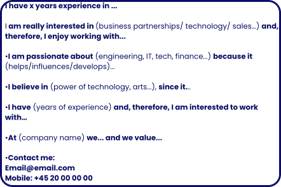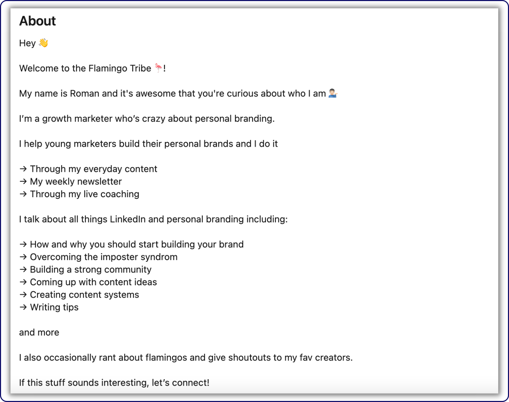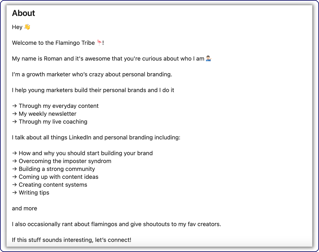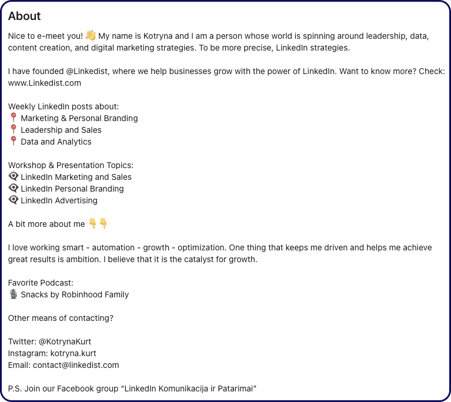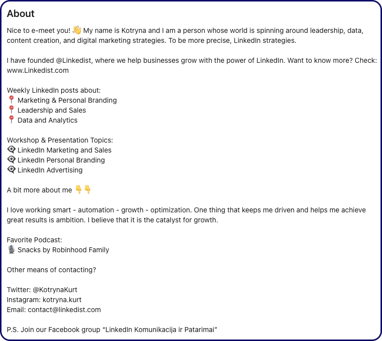 The Experience section is like a table in your CV where you put all the information about your previous and current jobs. Use short sentences, pinpoints (📍), etc. Do everything for the reader so that it would be easier to read.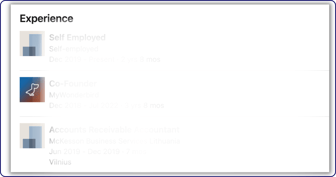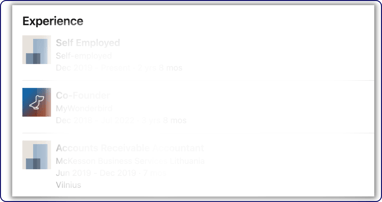 The worst thing to use is long sentences that talk about everything and nothing at the same time.
Of course, leaving without a word is also bad and looks unprofessional. Your LinkedIn experience tab shouldn't look like this:
Instead, make it look more like here: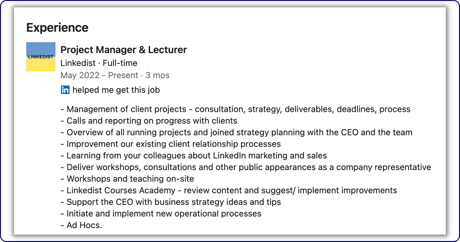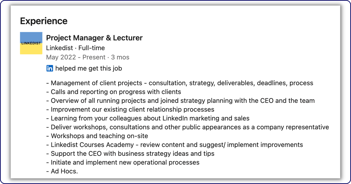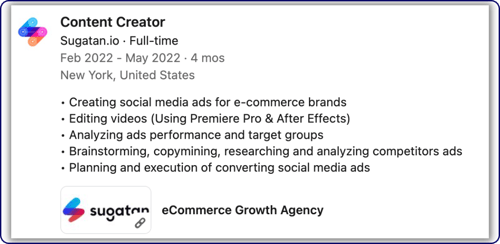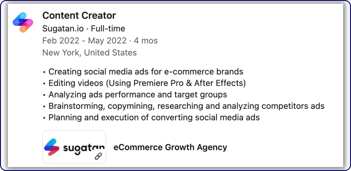 Make it simple, structured, and understandable to read. Your profile will look super optimized. 😎
Showcase academic achievements and qualifications.
Add your higher education – universities, colleges you went to.
Also, you can add your grade and what kind of activities you had (volunteering, departments, etc.).
So, be sure to include this section on your LinkedIn profile and keep it up-to-date with your latest educational accomplishments.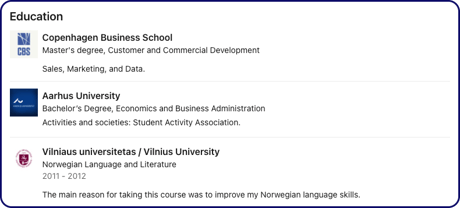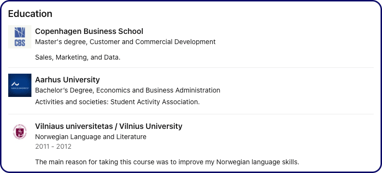 8. LICENCES & CERTIFICATIONS
If you have any licenses or certifications that are relevant to your field, be sure to include them in this section of your LinkedIn profile.
Don't forget the issued date, expiration date, and if there is a possibility, show the credential.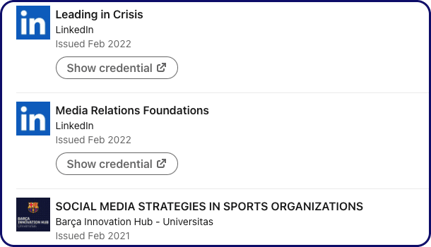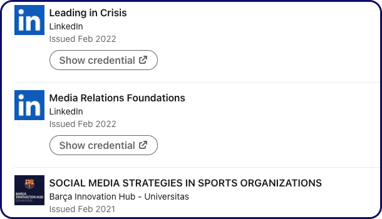 This section allows you to showcase your specific competencies and expertise in your industry or profession.
The Skills section can also make your profile more discoverable to recruiters and potential clients who are searching for specific skills. Therefore, optimizing this section to attract the right kind of attention is essential.
To do this, start by identifying the key skills related to your field or industry and add them to your profile. You can also ask for endorsements from your connections to add credibility to your skills.
🚨 Important: LinkedIn allows you to feature up to three skills at the top of your profile, so make sure to choose the most relevant and impactful ones for your career or business.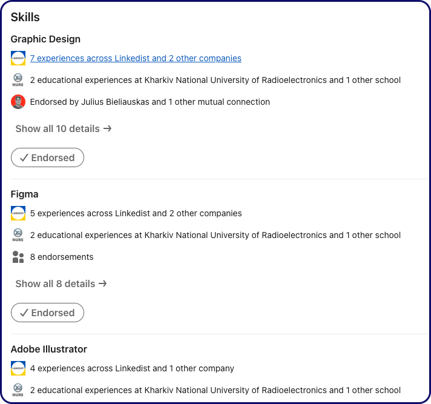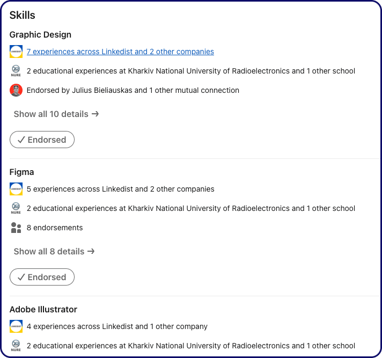 Another way to optimise your Skills section is to prioritize the skills that align with your career goals. For example, if you're looking to transition to a new industry, highlight the most transferable skills.
Finally, regularly update and refine your skills list to ensure it stays relevant and reflects your evolving expertize. By optimizing your LinkedIn Skills section, you can showcase your strengths, increase your visibility, and attract more opportunities.
Another critical aspect of a fully optimized LinkedIn profile is the Recommendations section!
Recommendations from your colleagues, clients, and managers can add credibility and provide social proof of your skills and expertize.
To optimize this section, ask for recommendations from your most trusted and respected connections.
You can also offer to write recommendations for others, as this can encourage them to reciprocate.
Make sure to highlight the most relevant and impressive recommendations by featuring them at the top of your profile.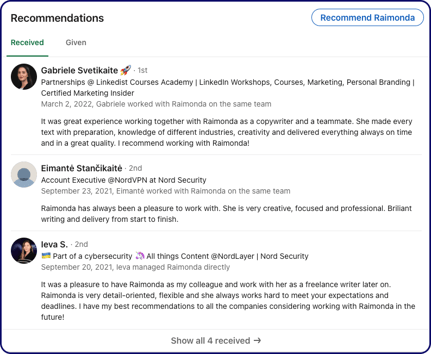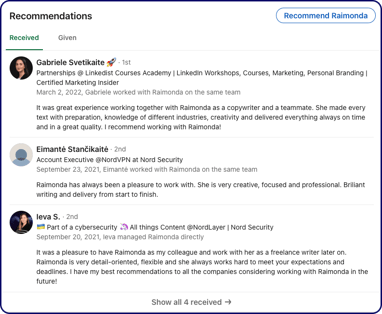 This section allows you to showcase any relevant coursework or certifications that you have completed.


To optimize this section, add any relevant courses or certifications that align with your career goals or demonstrate your expertize in your field. Be sure to include the course name, institution or provider, and completion date.
Additionally, you can add any relevant coursework to your profile summary or job descriptions to provide more context and demonstrate your knowledge and skills.
For this section, add any relevant projects that you have worked on, including the project title, description, and any key outcomes or achievements. Highlight projects that demonstrate your creativity, problem-solving skills, or technical abilities.
By optimizing your LinkedIn Projects section, you can provide a tangible example of your skills and expertize, and make a positive impression on potential employers or clients.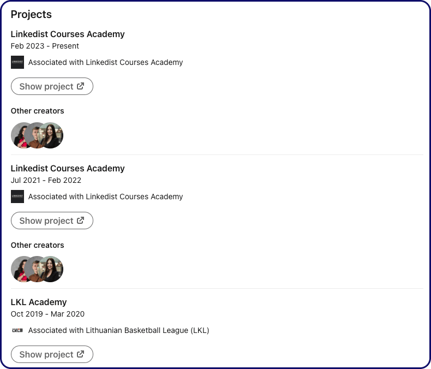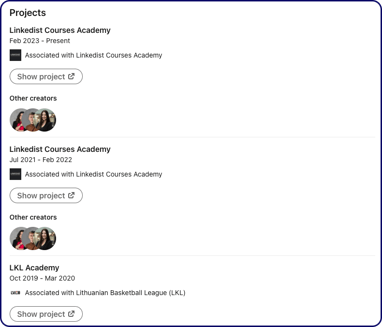 The Languages section on LinkedIn allows you to showcase your proficiency in different languages. This can be especially valuable if you are applying for jobs that require bilingual or multilingual skills.


Be sure to accurately represent your language abilities, as exaggerating your proficiency can be misleading and potentially harmful to your career prospects.
You can also use this section to highlight any language-related certifications or courses you have completed.
Optimizing your LinkedIn profile is the first step in your online personal branding journey.
From editing your custom URL to showcasing your skills and experience, each section of your profile plays an important role in creating a strong personal brand.
By following these tips and best practices, you can make your profile more visible, attract more opportunities, and showcase your expertise to potential clients, partners, and employers.
Remember to regularly update and refine your profile to reflect your evolving skills and expertise.
If you feel like you need help with your personal profile,
feel free to contact us and we will help you!