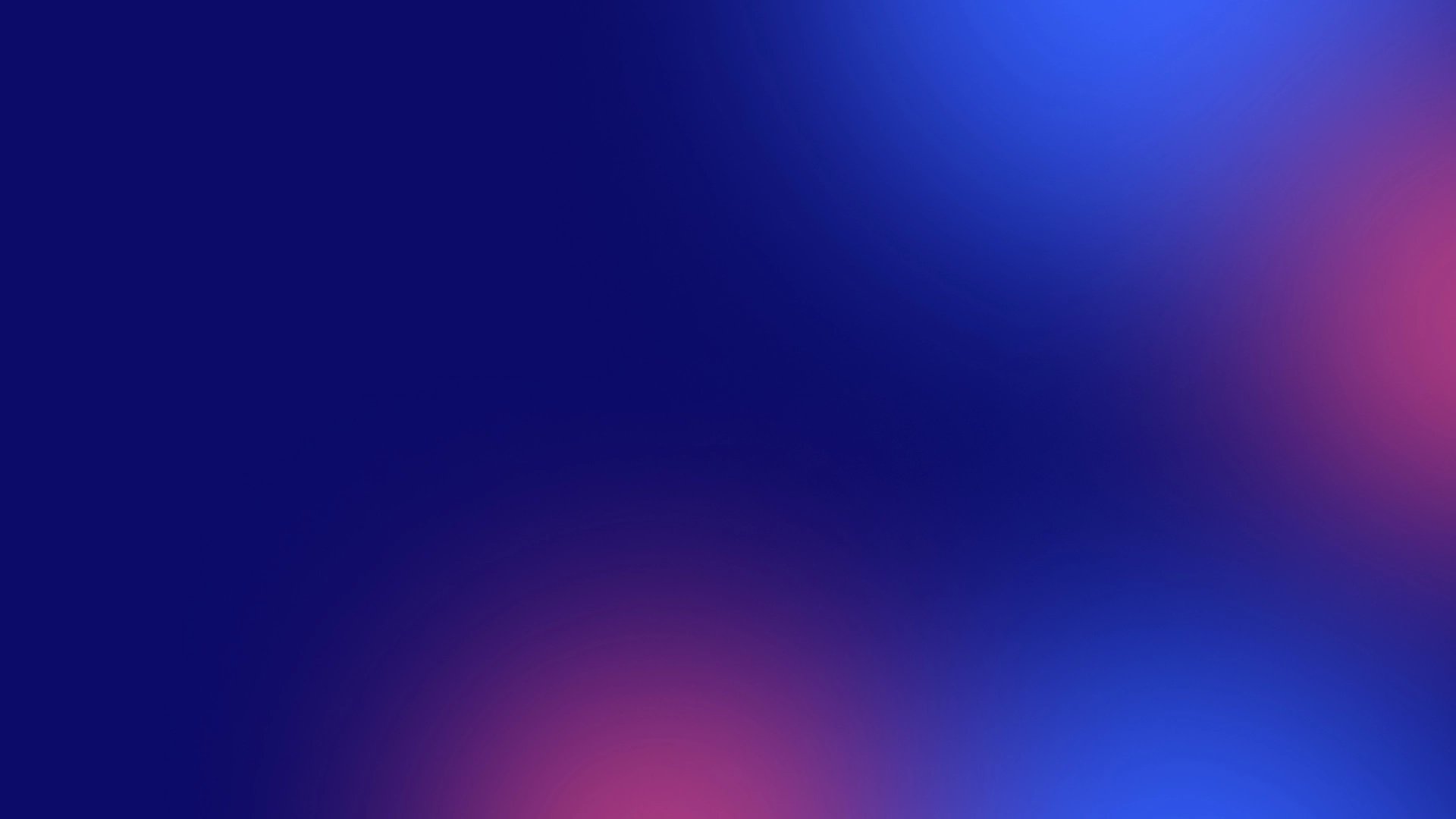 Navigating the world of LinkedIn advertising: biggest myths and tips
Want to advertise on LinkedIn but feeling intimidated? This guide will debunk the biggest myths and help you navigate the world of LinkedIn advertising. Learn how to set up your first ad campaign.
LinkedIn Ads can overwhelm and impress marketers with its many options. But fear not, dear Linkedist blog reader, even new advertisers can quickly get started with LinkedIn Ads. The best part is – we're here to give you a guide to help you navigate the world of LinkedIn advertising.
Let's start with the biggest myths about LinkedIn advertising, shall we?
MYTH NO 1: LINKEDIN ADS ARE TOO EXPENSIVE.
FACT: While it's true that LinkedIn Ads can be more expensive than advertising on other social media platforms, they can also be more effective at targeting professionals and generating high-quality leads!
Various factors influence LinkedIn Ads, including ad relevance, target audience, bidding strategy, and campaign objectives. To clarify this, we had seen client cases when LinkedIn advertising was more cost-effective than other social media platforms.
💡TIP: from our experience, the average CPC for LinkedIn ad campaigns can vary from as little as 0.7 EUR to 2.5 EUR, but it also depends on the industries, ad type and countries where your campaigns are running!
MYTH NO2: LINKEDIN ADS ONLY WORK FOR B2B BUSINESSES.
FACT: This one's a bit trickier. Whether LinkedIn Ads are effective for B2C marketing depends on your business goals and target audience. But with LinkedIn's targeting options, you can reach a particular audience, which could be particularly useful if you target a niche market. So don't rule out LinkedIn Ads because you're not a B2B business!
For example, you might be a B2C brand looking for new team members and can use LinkedIn ads to leverage your recruitment process! Or, if you're looking for a platform to promote your event, like product launch, webinar, or a trade show, you can use Sponsored Content or Display Ads to target your audience and drive registrations or ticket sales!
MYTH NO3: LINKEDIN ADS HAVE LOW CTR AND ENGAGEMENT RATES.
FACT: According to LinkedIn, engagement rates can be up to 50% higher than the average social media platform, particularly for businesses targeting professionals in specific industries. This is likely because LinkedIn's user base consists of professionals and decision-makers actively seeking out content and connections that can help them in their careers and businesses.
As you can see, advertising on LinkedIn is not that scary! With their incredible reach, you'll be able to target your ideal audience of professionals, entrepreneurs, and industry experts on a global scale. Another thing to remember is that LinkedIn also offers account-based marketing campaigns and website integration, making it a powerful tool for promoting your products and services. And with LinkedIn Analytics, you can track and improve the performance of your campaigns to maximize your ROI.
So why not try LinkedIn ads and see how they can boost your conversion rates and help you achieve your business goals?
Biggest myths about LinkedIn advertising
Now that we have convinced you to start your campaign, let's take a closer look at the specific steps you need to take to set up your first LinkedIn ad campaign.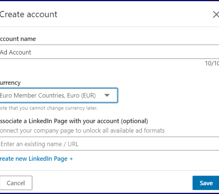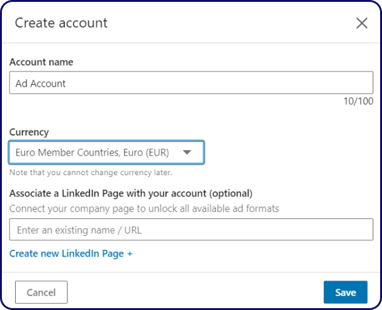 Steps to take to set up your first ad campaign
The first step to advertising on LinkedIn is creating a Campaign Manager account.
Campaign Manager is a place where you manage all your LinkedIn advertising activities. To set up an account, visit the Campaign Manager homepage, and provide your account name, LinkedIn page association, and currency details. Once you enter this information and click the Agree & Create Account button, your account becomes active.
Next, create your first LinkedIn campaign.
You don't need to start from scratch. Repurposing existing content is an excellent way to practice using Campaign Manager and staying efficient. Campaign Manager guides you through creating your first campaign with on-screen prompts.
Select an objective that aligns with your campaign goals.
Campaign Manager offers eight objectives across three categories - Awareness, Consideration, and Conversions, so take your pick! If you're unsure which purpose best fits your campaign, hover over the aim for a detailed explanation.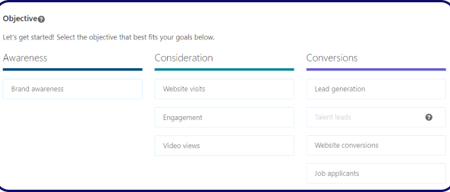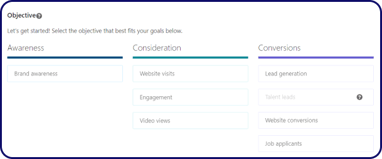 Then, set your target audience.
LinkedIn offers various targeting options, including job title, industry, company size, and location. You can also target specific LinkedIn groups, interests, and behaviors. Define your target audience carefully to ensure your ads reach the right people.
💡TIP: It's good to remember that the minimum audience size required to run an advertising campaign is 300 members. Also, LinkedIn suggests a minimum of 50,000 to drive results for your campaign, whereas we noticed that the optimum size to drive the results is between 10,000 and 30,000 people.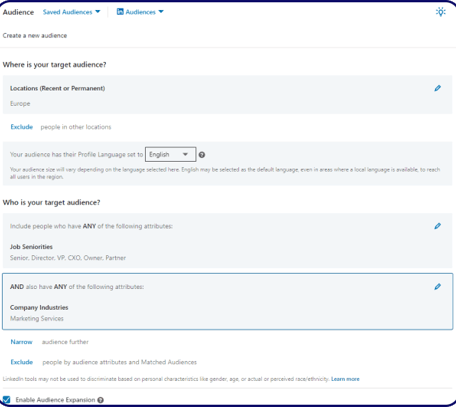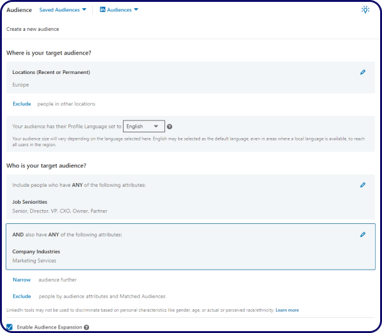 Choose from ad formats available through Campaign Manager, such as single image ads, video ads, carousel image ads, and more. Don't worry about memorizing this list; Campaign Manager offers helpful pop-up reminders when you hover over the campaign name.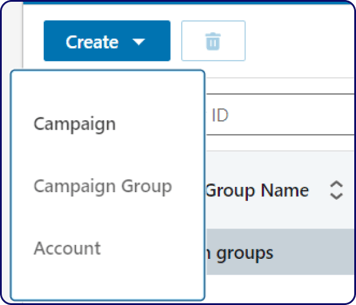 Set a budget and schedule for your campaign. Campaign Manager defaults to a daily budget of 100 EUR and a start date that coincides with the campaign build date. You can leave or change these settings based on your organization's budget and best practices.
💡TIP: We recommend starting with a minimum budget of 30 EUR per day for optimal results and running the campaign for at least one week.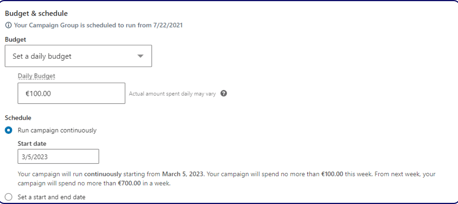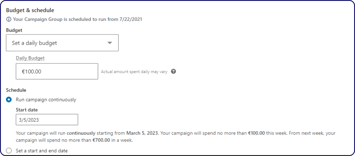 Add creative elements to your campaign. Each ad format has its content requirements. Ensure that you develop your LinkedIn advertising pieces following these guidelines.
There're a few aspects to consider when creating your visuals and copy:
Be very clear about what the offer is and who it's for.

Use bullet points, FOMO, and numbers in the ad's copy.

Call out your audience.

Try using emojis.

Use the right CTA button.

Keep headlines short.

Use a professional tone and avoid slang.
💡TIP: Having 2-4 different text types and 2-5 different images for each campaign is essential to get the most out of your campaigns. The more different ads you have, the better you can understand and test your audience.
Here're some great examples of LinkedIn ad creatives for you to get inspired: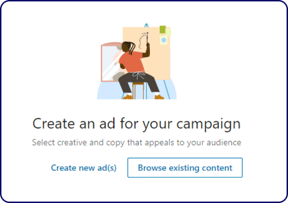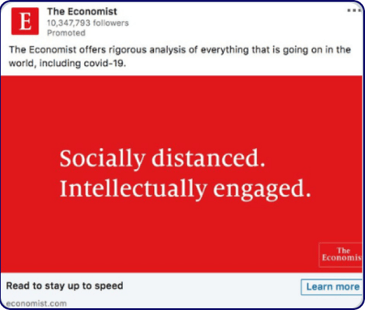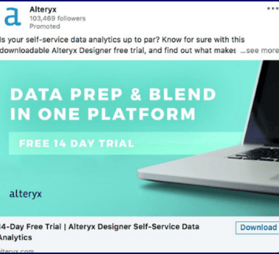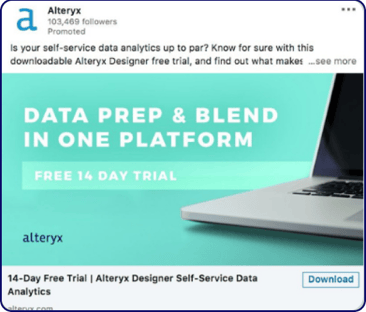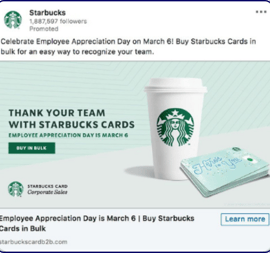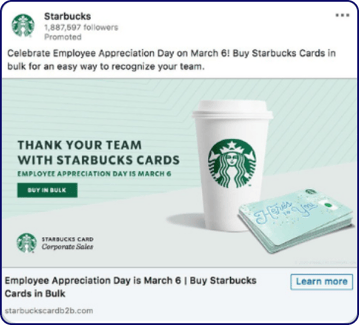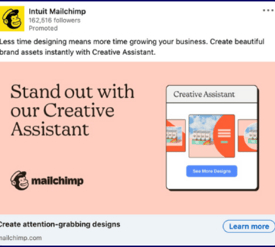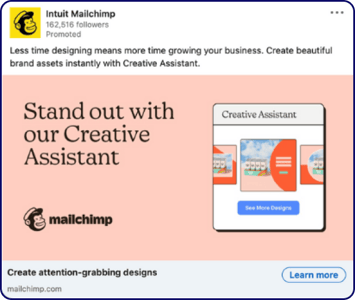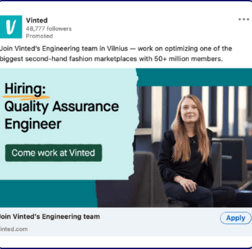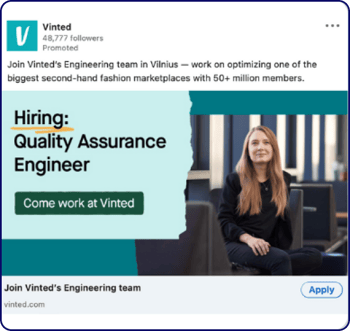 Lastly, launch and monitor your campaign. Once you've set up your ad, it's time to launch your campaign. Monitor your campaign regularly to track its performance and make any necessary adjustments. Use LinkedIn's campaign analytics to measure your ad's success and make informed decisions for future campaigns. For more, on how to measure the ROI of your campaign, read here.
If you ever wonder what are the benchmarks for key metrics when running a LinkedIn campaign, this summary will help you out: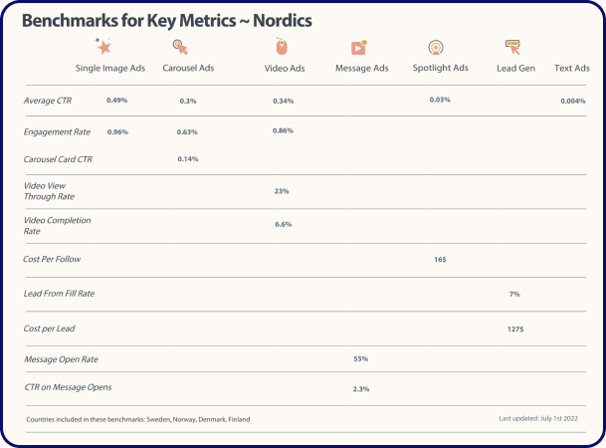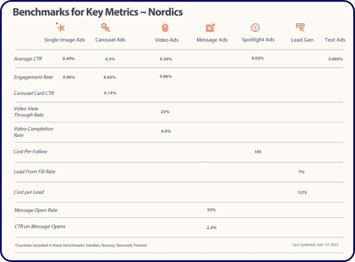 Voilà! Setting up a LinkedIn ad campaign can be a powerful tool to reach your target audience and promote your business. With careful planning and execution, you can create ads that resonate with your target audience and drive accurate results for your business.
Boost function
Often companies ask us, "Isn't boosting a post just like setting up a campaign on Campaign Manager?" Well, not exactly.
Boosting a post is simpler and more streamlined than setting up a full-blown campaign. It's a great option if you need more time, have a tiny target audience, or want to boost your content quickly. If you give it a try, LinkedIn provides an excellent guide for you to follow.
On the other hand, if you want more control over your targeting, budget, and ad formats, then Campaign Manager is the way to go.
It's like the difference between taking a stroll and running a marathon – both will get you to your destination. Still, one requires much more planning and preparation, eventually bringing better results.
Final thoughts
Don't let the myths about LinkedIn advertising scare you! With this guide, you can confidently navigate the platform and create effective ad campaigns that reach your target audience. Remember, LinkedIn Ads can be cost-effective and can generate high-quality leads. So, give it a try and watch your business grow!
Curious to learn more about advertising on LinkedIn?
We have a whole course about it!